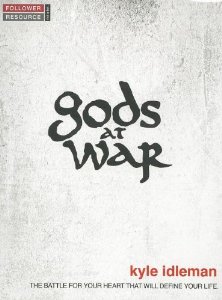 "You shall have no other gods before me" is the first of the Ten Commandments that God gave to Moses on Mt. Sinai for the nation of Israel. Kyle Idleman, in his book, "Gods at War," contends that idolatry is not one of many sins; rather, it is the one great sin that all others come from. The Jewish people had just spent 400 years as slaves in Egypt, a nation where there were numerous gods on almost every street corner.

When we hear God say, "You shall have no other gods before me," we think of it as a hierarchy: God is always in first place. But God does not want to be the first of many gods. There are to be no partial gods, no honorary gods, no interim gods, and no assistant to the regional gods. The God who created the universe and created mankind in His own image is to be the only God. He is the only God who can help us, direct us, satisfy us, and save us. God wants us to love Him with an undivided heart. God knows what is best for His children. But so often, we seek love, affirmation, and identity in all of the wrong places. When we find our worth in something other than being a child of God, we build idols in our hearts that keep us from knowing the fullness of God's love.

The small group study of "Gods at War: Defeating the Idols that Battle for your Heart " is an attempt to recognize that there is a spiritual battle going on for the hearts of mankind. Unless we are aware that there is a war being waged, it is very difficult to win the everyday battles. We will identify the different areas where this conflict takes place and talk about ways to overcome and be victorious.
---